We cannot direct the wind….. But we can adjust the sails.
"Every experience is a Learning Experience".
"If a doctor, Lawyer or dentist had 40 people in his office at one time, all of who had different needs, and some of whom, didn't want to be there and were causing trouble and the doctor, lawyer, or dentist, without assistance,, had to trust them all with professional excellence for nine months, then he might have some conception of the class-room teacher's job."
Donald D. Quinn……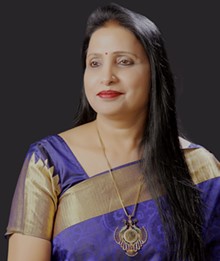 A school is not merely a building with furniture and staff, it is a place where characters are built and destinies are shaped with the students being at the centre of all initiatives and endeavours. The teachers influence the students thought process and value system. It gives me both pleasure and satisfaction that the staff and students of VSPK International School are performing their onerous duties and fulfilling their responsibilities with sincerity and commitment as Manager of this value-oriented Educational Institution. I am pledged toward's the improvement of the quality of class-room transaction, professional development of the faculty and creation of a safe and secure learning ambience where student engagement and participation in multiple activities is given highest priority as part of real life stimulation and experiential learning. Participation build confidence, challenges one's inner self, taps, taps unrealized potential, showcases talent and enables the student to learn in an enjoyable atmosphere. I wish that the academic staff lives upto the immense faith that is placed in us by society that expects Education to be a vehicle of change, progress and reform. I look forward to the continued support and partnership between parents and facilitators so that we can work together to inculcate right values and develop optimum potential of the future citizens of Global Community.


"There is a voice inside that whispers all day long.
Telling me what is right, what is wrong?
No Teacher, Preacher, Friend or Parents can decide.
To find the right path, listen just listen to the voice that speaks inside".

Dr. Pramila Gupta
(Manager)